| | | |
| --- | --- | --- |
| | Categories | |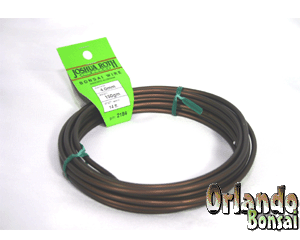 Bonsai Wire 1 KG Nursery Coil 4.0 mm
$47.95
$44.11

| | | |
| --- | --- | --- |
| | Quick Find | |
| | | |
| --- | --- | --- |
| | Manufacturers | |
| | | |
| --- | --- | --- |
| | Information | |
| | |
| --- | --- |
| Privacy Notice | |

WHAT PERSONAL INFORMATION DOES ORLANDO BONSAI GATHER? The information we learn from shoppers helps us personalize and continually improve your shopping experience at Orlando Bonsai. Here are the general types of information we gather.
Information You Give Us
We receive and store any information you provide to us when you become a Orlando Bonsai member, communicate by email, telephone or physical mail with our customer service, or otherwise interact with us. Such information may include your name, address, email address, shopping interests and preferences, transaction history, and other personal data. You can choose not to provide certain information, but then you might not be able to take advantage of certain useful Orlando Bonsai features.
Information Gathered Automatically We receive and store certain types of information whenever you interact with us. For example, like many Web sites, we use "cookies" to obtain certain types of information when your Web browser accesses Orlando Bonsai. The cookies that we use do not contain and are not tied to personally identifiable information about you.